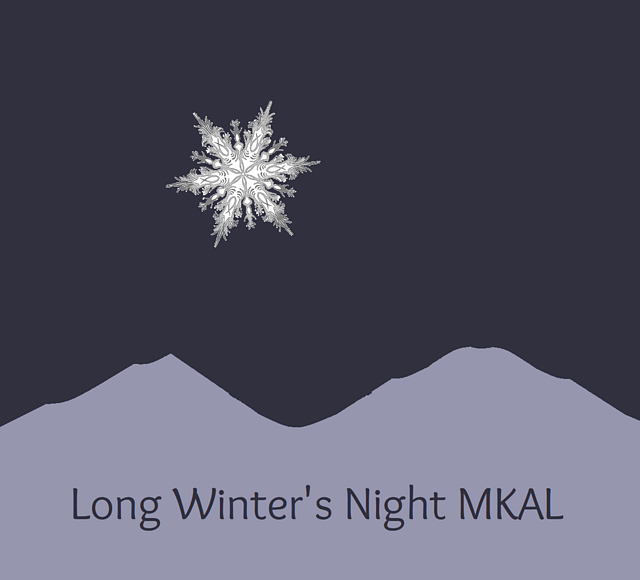 We are so delighted you chose to join us in the Long Winter's Night MKAL designed by Laura Aylor of Fogbound Knits!  
Below is the link to the Ravelry page for this Mystery Knit-a-long with all the details but we want to bring special attention to the following to get you ready:
Yarn:   Per the designer's instructions, our kits provide at least 675 yards of the main color and at least 500 yards of a contrasting color in a DK weight fiber providing a stitch gauge of 22 stitches over a 4" swatch.    

Pattern:  The Long Winter's Night pattern is complimentary with purchase of your yarn kit.  The shop will purchase a digital copy from Ravelry on your behalf at time of shipping.  You will receive an email directly from Ravelry with a link to drop the pattern into your Ravelry library and will receive clues directly from the designer.  
Needles / Gauge
4.00 mm (US 6), (or size to obtain gauge)
Recommended gauge is 22 sts = 10cm (4") in blocked garter stitch.  Please remember that super-wash and non-wool blends can stretch so blocking your swatch before measuring your stitch count will be helpful.  
Schedule:  This is a mystery knit-a-long.  We've added the Zoom session dates in parentheses after each clue date.  Zooming together gives that sense of community which comes from working on a project in tandem with others.  We encourage you to join with Margaret Ann for the weekly Zoom sessions where we will share tips and tricks and catch up with each others progress.   At the end of each clue period we invite you to submit pictures of your projects up to that point in the pattern and we will have drawings for some pretty awesome prizes (if I do say so myself!).  
Clue 1 – December 26
Clue 2 – January 2 (Zoom on Tuesday, January 5that 10:30 AM)
Clue 3 – January 9 (Zoom on Tuesday, January 12th at 10:30 AM)
Clue 4 – January 16 (Zoom on Tuesday, January 19th at 10:30 AM)
Clue 5 – January 23 (Zoom on Tuesday, January 26th at 10:30 AM)
Clue 6 – January 30 (Zoom on Tuesday, February 2nd at 10:30 AM)
Clue 7 – February 15 (Zoom on Tuesday, January 16th at 10:30 AM)
For additional details about the knit-a-long we encourage you to read the designer's Ravelry page: 
https://www.ravelry.com/patterns/library/long-winters-night
Please remember that even though we have the times above scheduled especially for the KAL Zoom sessions, we are open every afternoon Mondays through Saturdays if you run into a problem and need any help in person or via the internet. We are here for YOU!   
Please call the shop at (386) 238-9109 or email at [email protected] any time you have any questions or concerns.  
Yours in stitches,

Helen Falkenberg
She Sells Yarn and More
www.shesellsyarn.com