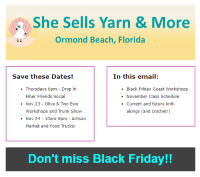 Black Friday Workshops
and a Trunk Show 
November 23 might be Black Friday
but we plan to have a lot of
C
O
L
O
R
! 
R
ight after their dying workshop at 2:00 pm they will offer a public
Trunk Show
of their original hand-dyes and luxury product lines (did you know qiviut doesn't felt?!!) as well as sample garments. 
T
hen, that evening they will offer their very popular 
Meditative Stitching
class to help you elevate your knitting, crocheting, or other hand-stitching into vehicles for peace, self-growth, and reaching out to others.


   ~   5:00 pm to 7:00 pm
CLICK HERE TO BOOK NOW!!
Come for all or part of this creative day by
clicking below
to book your spot!
Beginner Crochet Class with Mary Ann
This class offers an opportunity to learn many crochet stitches and you will finish your very own Spa Cloth!
Tuesdays at 4:00 pm. 

Starting November 6
Beginner Knitting Class with Ron Roberts
Learn many of the foundation knitting stitches and finish a project!
Saturdays at 10:30 am.  

Starting November 3
Socks with Ron Roberts!!
Two at a Time  - Beat the SSS (Second Sock Syndrome) and make an identical pair of socks!
Two Thursday mornings November 1st and 8th, 10:00 am.
Book now!
 
Heels and Toes - A great way to learn and practice new constructions without making an entire sock! 
Friday mornings, November 2nd and 9th, 10:00 am.


Book now!


 
Top Down Socks - This class/knit along will inspire confidence in a beginner sock knitter and send them down the path of no return! 
Four Saturday afternoons, November 3rd, 10th, 17th and December 1st at 12:30 pm. 


Book now!
Finishing Class with Renate Hutchinson
Saturday, November 10th at 10:30 am

This is your opportunity to learn wonderful techniques for finishing all your projects with ease and beauty from one of our shop's finest knitters! 
Class is FREE, but space is limited to 10 students and you MUST register!

Requires small amount of prep knitting

Feel free to bring in any unfinished project in addition to the swatches!
Scandinavian Color Stranded Hat with Elizabeth Hall
Learn the secret behind knitting beautiful designs in stranded colorwork.  Not only does this technique allow you to make an amazing array of designs, it also creates fabrics that are warmer and more durable than single-color knitting. 
Tuesdays in November

 from 1:30

Make a beautiful two-color Norse ski cap
Moebius Magic Cowl - December 1 at 10 am - $25
Learn the technique that has brought knitters across the world so much joy and fun! Using this technique to cast on a scarf with a perfectly seamless half-twist, get started on your first Moebius journey and learn tips and tricks to sail you through any pattern of your choosing!  Book now!
Two Color Brioche Cowl - December 1 at 4 pm - $25
Go from absolute beginner to knitting this delightful squishy rib, add a little fisherman's rib for comparison and finally brioche in two colors!!   Book now!
Join us for some fun and food with creative vendors from right here in Central Florida at our second annual Small Business Saturday Artisan Market!